BOO! This Election, October May Be One Long 'Surprise'
It's only been a few days, but October has already given us a month's worth of surprises.
As it relates to politics, the term 'October surprise' was coined in the 1980s by William Casey, campaign manager for Ronald Reagan's 1980 presidential campaign (Casey would later become director of the CIA). In years past, the term signified a single event the flips the momentum, particularly during the month before a presidential election.
But if we've learned anything from the Trump era (and 2020), it is that the old rules no longer apply. The month's barely started, and it already feels as though we've had a month's worth of surprises in October's first few days.
The White House is a COVID-19 hotspot
Late Friday, we learned the President of the United States has COVID-19, as does the First Lady, the President's counselor Hope Hicks, his advisor Kellyanne Conway, his campaign manager Bill Stepien, Reverend John I. Jenkins, the President of the University of Notre Dame, RNC Chairwoman Ronna McDaniel, Senators Thom Tillis of North Carolina, Mike Lee of Utah, and Ron Johnson of Wisconsin, former New Jersey governor Chris Christie, and at least three journalists.
Separately, the City of Cleveland announced eleven positive cases of COVID-19 traced to preparations for the presidential debate. To put the White House outbreak in perspective, the entire city of DC only 14 new cases of COVID last Monday; the Trump White House is now responsible for 23 new cases and counting.
After a Saturday news conference at Walter Reed Hospital raised new questions, we learned the President might have tested positive for the coronavirus than previously disclosed. We also discovered the President received supplemental oxygen at the White House on Friday. This, at least in part, prompted Trump's transfer to Walter Reed Hospital.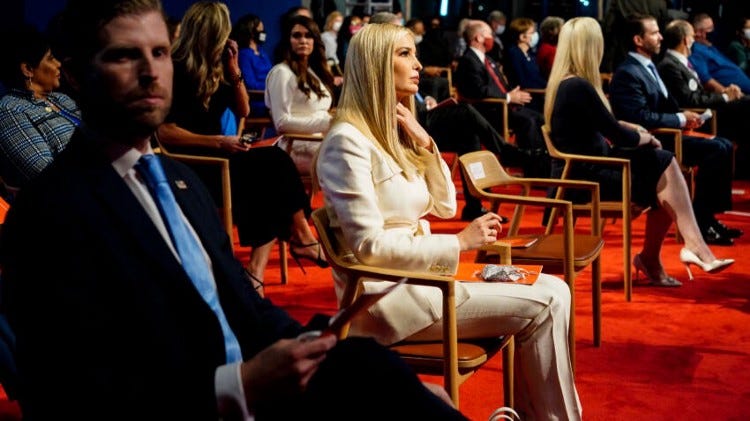 Eric Trump, Ivanka Trump, Tiffany Trump, and Donald Trump Jr. sit in the audience during the first presidential debate on Tuesday in Cleveland. –Melina Mara / The Washington Post
The revelation of multiple COVID-19 cases within the White House deserves an even finer point: It now appears the Administration may have known of his infection as early as Wednesday morning. Regardless, when President Trump took Air Force One to a fundraiser at his golf club on Thursday afternoon, he knew of Hope Hicks' positive diagnosis for the COVID-19.
 We also know that  members of the Trump campaign arrived for Tuesday's debate too late to be tested by the Cleveland Clinic—and that most did not wear masks during the event. According to Fox News's Chris Wallace, who moderated last Tuesday's debate, there was an "honor system" for candidates to arrive after already testing negative for the virus.
Will Democrats finally play hardball?
Due to the sudden rash of coronavirus cases, the Senate announced this weekend that it would recess until October 19th. Regardless of the outbreak, Senator Mitch McConnell is determined to confirm Amy Coney Barrett before the election. That said, the quarantines create a problem — he may not have enough votes.
Although the Senate conducts its business remotely in committee hearings, senate rules require an in-person vote. With opposition votes anticipated from Senators Lisa Murkowski and Susan Collins combined with Senators Tillis, Johnson, and Lee's quarantines, Republican's 53–47 majority just decreased, at least temporarily, by five votes.
This development offers Democrats the chance to derail Amy Coney Barrett's confirmation — if they have the guts to seize upon the opportunity. David Dayen of The American Prospect sums up the possible Democratic strategy this way:
"Under Senate rules a quorum is presumed to be present. A Democrat would have to get the floor, which they can do simply by objecting to whatever unanimous consent the Republicans want to move forward on a matter…At that point, Republicans would be stuck: even if they could assemble all of their available members, it would only add up to 50, not enough for a quorum. If Democrats boycott the quorum call, Republicans cannot do anything on the floor for the time being."
More from Dayen:
"…by forcing quorum calls, Democrats would keep every single Republican in Washington rather than on the campaign trail. Numerous Republican Senators are in tight races at home and don't want to be stuck running back and forth to the Capitol. Finally, each passing day that makes it tougher for Republicans to complete the Barrett nomination offers a slight possibility that a member cracks, and pushes out the fight until after the election."
The Republican Senate continues to push forward on filling RBG's SCOTUS seat, while the HEROES Act, support for the US Postal Service, and election security measures sit dormant on Senator McConnell's desk.
I recently wrote about how Democrats—especially in the Senate—repeatedly fail to fight back against Republicans when given the opportunity. It will be political malpractice if Senate Democrats fail to play hardball this time, given the tremendous stakes involved.
Any other year this would be a top story, but this is 2020
As we watched Friday's non-stop coverage of a White House-turned-coronavirus-hotspot, a late afternoon press release announced the President's intention to name Tom Fitton to the D.C. Commission on Judicial Disabilities and Tenure (CJDT).
Who Is Tom Fitton? Aside from being an anti-mask wearing, coronavirus denier, Fitton is the head of Judicial Watch, a supposed watchdog organization that is really more of a right-wing messaging shop. Until now, you could find Mr. Fitton on Fox News or Twitter, pushing Deep State conspiracy theories. He's also called for the imprisonments of former-President Barack Obama and Robert Mueller. Evidently, the White House wants to give Fitton authority to remove judges from the DC courts.
Other news you may have missed:
Forget systemic racism, Bill Barr doesn't believe in quarantines either
The economy is really, really, bad—and it's even worse for women
Surprise! Donald Trump paid $750 in federal income taxes in 2016
FLOTUS doesn't give a f*ck about Christmas — or those caged kids
Former Trump campaign manager hospitalized; suspected of pocketing RNC, Trump campaign $$$
Photo by Carol Lee